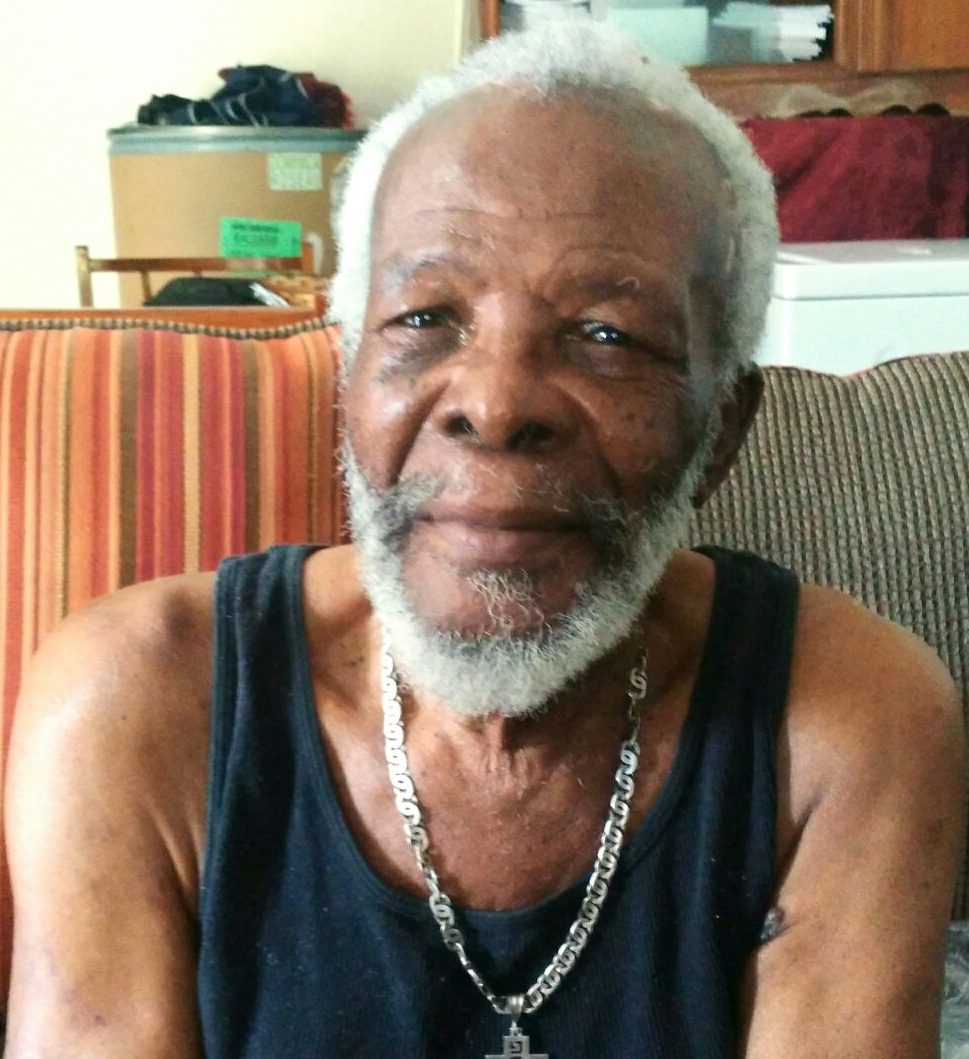 Bernard Moses
We announce the death of 93 year old Bernard Moses better known as "Brother Mo", "Dr. Mo" or "The voice in the wilderness" of Newtown. He died on September 5th.
He will be remembered by:
5 Sons: Stephan Etienne in St. Thomas. Martin, Paul, Lawrence, and Titus Moses in Dominica.
5 Daughters: Gweneth in Florida, Tessa, Sylma, Barbara and Bernadette in Dominica.
25 Grandchildren: Sonia, Joseph, Mirilyn, Joselyn, Dr.Derron Ambrose, Sheralyne, Shania, Renatta, Mikayla, Kenika, Jeremy, Ronaldo, Josiah, Ogelly, Dr.Denny Moses, Marlon, Junelle, Sahani, Mcneil, Oneal, Anil, Lenil, Neal, Mikey and Rena.
8 Great-Grandchildren: Aimee, Sheiann, Qwanelle, Amayah, Jardel, Iasi, Sayde and Qwayd.
Siblings: Mary, Alma, Maudrina and Howard
Brother-in-law: Mcdonald Gallion
Sister-in-law: Winifred Gallion
Daughters-in-law: Marcelin, Josephine, Alix and Nurse Magdalene Moses.
Sons-in-law: Bernard, Dr.Franklyn Dontfraid, Remy and Rene.
Several nieces & nephews including Martha, Ann, Peterson, Joana, Mervin, Bolo, Mercula, Debbie, Johnny, John, Bernadette, Peter, Moses, Shirley, William, Cecil "WA" Harve and others too numerous to mention.
Special Family Friend: Junior Thomas
Caregiver: Virgin Dangleben & Titin.
His Associates: Members of DACAMEN, St. Vincent De Paul, Holy Name Society, the Fatima, Cathedral and Holy Spirit Chapel community.
His close friends: The George & Noel Families in Newtown, Palestrina, Ambassador Felix Gregoire, Norris Prevost, Tokey, Mona, Tita, Arnold, Anita, Foley Oscar & family, Vernon, Clem, Franko, Mavis James & family, Annie Warner, Ma Owen, Ma Jan, Franklyn, Joanca, Davis Letang, Jaqueline Prevost, Monsignor Thomas and Fr. Francis, Dr. Honorable Roosevelt Skerrit, Hon. Checkira Lockhart-Hypolite, Darrel Titre, Fireman and other supporters of the Dominica Labour Party. The communities of Grandfond, Newtown and Delices and other names too numerous to mention.
The funeral of the late Bernard Moses shall take place on Friday 24th September at 10:00AM at the Fatima Church in Newtown. Viewing will take place at 9:30am followed by interment at the Roseau Catholic Cemetery.
SU

MO

TU

WE

TH

FR

SA
26

27

28

29

30

1

2
Events for October
1st
No Events
Events for October
2nd
No Events
3

4

5

6

7

8

9
Events for October
3rd
No Events
Events for October
4th
No Events
Events for October
5th
No Events
Events for October
6th
No Events
Events for October
7th
No Events
Events for October
8th
No Events
Events for October
9th
No Events
10

11

12

13

14

15

16
Events for October
10th
No Events
Events for October
11th
No Events
Events for October
12th
No Events
Events for October
13th
No Events
Events for October
14th
No Events
Events for October
15th
No Events
Events for October
16th
No Events
17

18

19

20

21

22

23
Events for October
17th
No Events
Events for October
18th
No Events
Events for October
19th
No Events
Events for October
20th
No Events
Events for October
21st
No Events
Events for October
22nd
No Events
Events for October
23rd
No Events
24

25

26

27

28

29

30
Events for October
24th
No Events
Events for October
25th
No Events
Events for October
26th
No Events
Events for October
27th
No Events
Events for October
28th
No Events
Events for October
29th
No Events
Events for October
30th
No Events
31

1

2

3

4

5

6
Events for October
31st
No Events