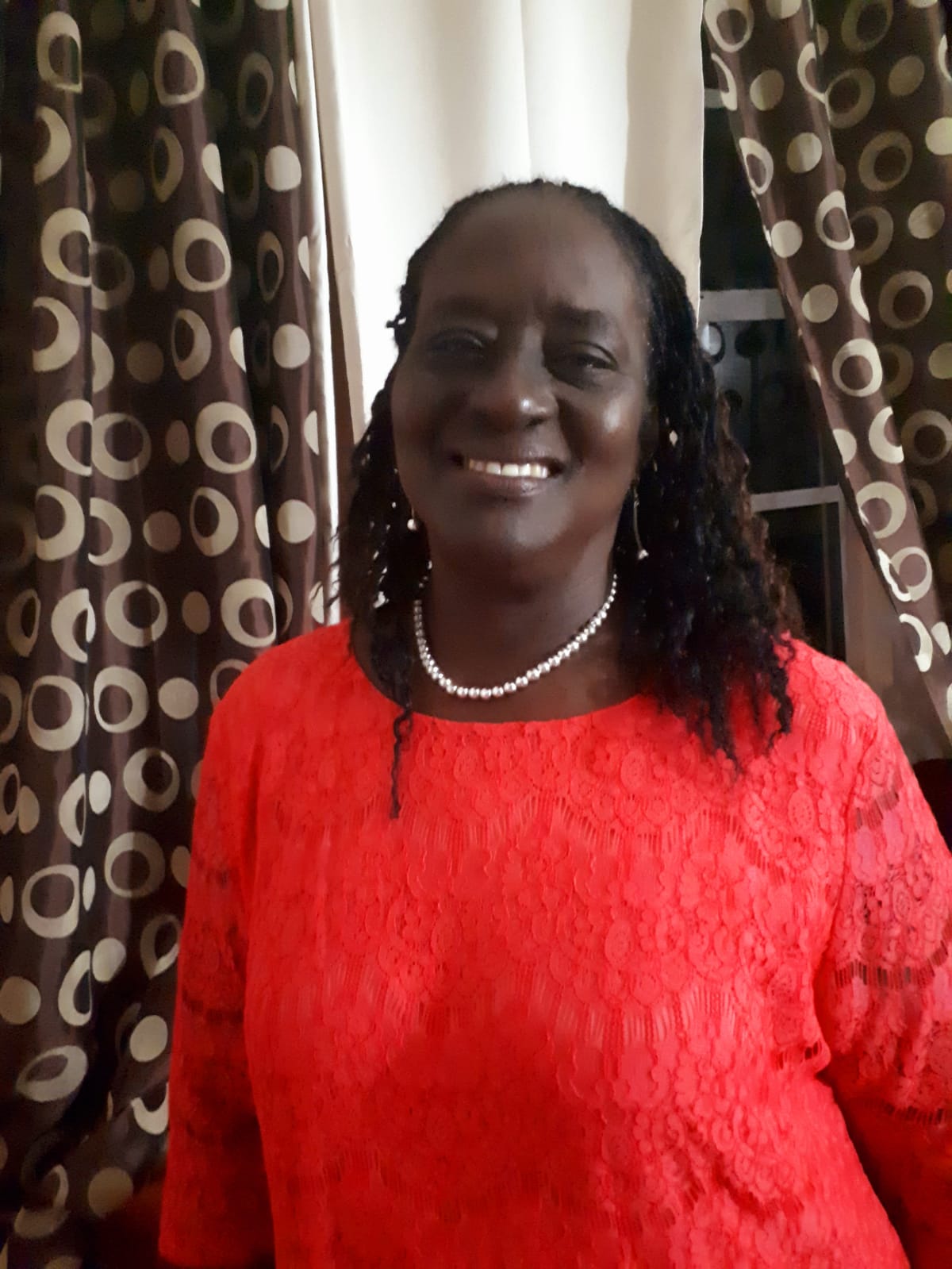 Geralda Blaize Richards
We announce the death of: Geralda Baize Richards better known as Jay Jay
Age: 65    Of: Pointe Michel
She died on 5th September 2021 at DCFH
She leaves to mourn:
Husband: Arthurley Richards
Children: Abiah Richards
Adopted Children: Jeannel Peter
Brothers: Kent and Lawrence Blaize
Sisters: Clemensia Baron, Launita Norde, Celia Blaize, Charmaine Gregoire, Augustina "Fino" Joyce
Nieces/Grandnieces: Evadney, Sandra, Jounel, Gianna, Hasanah, Amelia, Josie, Angela, Amanda, Dendra and Karelle
Nephews/GrandNephews:  Hasani, Herskel, Quentin, Wendell, Hanif, Collin, Kenny, Davidson, Raymond, Frankie Jr, Reon
Sister in law: Rose and Virginia Blaize, Merina Jno. Baptiste and Claudette Richards
Brother in law: Ambassador Felix George, Daryl Joyce
Nephews and Nephews in law: Joanna, Lenisia, Carla, Jillia, Candia, Josie, Egbert, Anthony
Close Cousins: Selma and Hasseh Williams, Egbert Hall, Romel & Sylvia, Roosevelt, Lita Toussaint, Charmaine Thomas, Valda James and family, Nathalie Blaize, Joanne Hilaire, Karen Koja, Ricardo, Anne George, Romel and Family, Roosevelt Toussaint
Close Friends: Felicia, Joyceline Degallerie and family, Hon. Denise Charles and family, Lisa Valmond and family, Tayeisha Laville,  Sandra Francis, Louisa Bardouille and family, Anthia Leltitte, Isabella Delawney, Melanie and Maximae Paul, Helen Olivacee, Stepha Charles, Odile Valmond, Martha , Frances , SPAT Family, Franciso Esprit, John Foye, Josephine, Jacintha, Gregory, Ron Green, Joey Peltier and family .Surena, Jennifer, Eva , Henrietta, Phyllis, Rose Nelson, Rose Benjamin, Marie, Sister Nats, Felicia, Sandra, Samuel, Rhoda, The Blaize and Edgar families in Grandbay, Mahaut, Bellevue, PMDC members especially Erica, Cherry, Lyn, Amanda Fregiste, Sacred Heart, Pointe Mitchel Catholic Women's Group, Staff of Inland Revenue
Other relatives and friends too numerous to mention
The body of the late Geralda Richards will be transported from Lyndhurst Funeral Home for viewing at 9:30am on Friday, 24th September at the La Salette Catholic Church, Pointe Michel. Funeral Mass begins at 10:00am followed by interment at the La Salette Catholic Cemetery.
SU

MO

TU

WE

TH

FR

SA
26

27

28

29

30

1

2
Events for October
1st
No Events
Events for October
2nd
No Events
3

4

5

6

7

8

9
Events for October
3rd
No Events
Events for October
4th
No Events
Events for October
5th
No Events
Events for October
6th
No Events
Events for October
7th
No Events
Events for October
8th
No Events
Events for October
9th
No Events
10

11

12

13

14

15

16
Events for October
10th
No Events
Events for October
11th
No Events
Events for October
12th
No Events
Events for October
13th
No Events
Events for October
14th
No Events
Events for October
15th
No Events
Events for October
16th
No Events
17

18

19

20

21

22

23
Events for October
17th
No Events
Events for October
18th
No Events
Events for October
19th
No Events
Events for October
20th
No Events
Events for October
21st
No Events
Events for October
22nd
No Events
Events for October
23rd
No Events
24

25

26

27

28

29

30
Events for October
24th
No Events
Events for October
25th
No Events
Events for October
26th
No Events
Events for October
27th
No Events
Events for October
28th
No Events
Events for October
29th
No Events
Events for October
30th
No Events
31

1

2

3

4

5

6
Events for October
31st
No Events