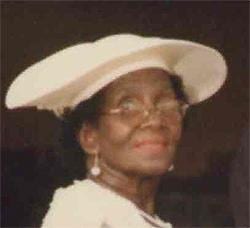 Catherine Albertha Clement
CATHERINE ALBERTHA CLEMENT of Fairfield Road, Black Rock, St. Michael entered peacefully into rest on February 06, 2017. Housewife and member of the James Street Methodist Church Women's League.
Beloved wife of the late John Clement.
Mother of Trevor Clement (retired Director of the Transport Authority), Glenmore Clement (Sultanate-of-Oman), Hayden Clement (CLEMCO Electrical Services Inc.), Cynthia Crichlow (Canada), Cathy-Ann Beckles (Sagicor Life Inc) and the late M. Patricia Goodridge.
Grandmother of Patrick, Peter, and Pearson Goodridge, Marsha Alleyne, Cassandra and Christina Crichlow, Dr. Tamara Clement, Raquel, Benjamin, Chance and Cherish Clement and Matthew Beckles.
Great Grandmother of many.
Sister of the late Kathleen, Vernon and Lemuel Cox and Verona Nicholls.
Aunt of Ralph, Jeanette, Hallam, Maureen, Juliet, George and Michael and many more.
Sister-in-law of the late George Clement.
Mother-in-law of Antonio Beckles (Republic Bank) and Michael Crichlow (Canada).
Friend of Brenda Harding, Pauline Roberts, Evangeline Daniel and many more.
The funeral of the late Catherine Albertha Clement leaves Lyndhurst Funeral Home, Passage Road, St. Michael on Saturday, February 18th, 2017 for the James Street Methodist Church, where relatives and friends are asked to meet at 10:00 AM for the service. The cortege will then proceed to the Coral Ridge Memorial Gardens for the interment. The Organist, members of the Church Choir and Women's League are kindly asked to attend. Flowers may be sent to the Lyndhurst Funeral Home no later than 8:00 a.m. on Saturday. The body of the late Catherine Albertha Clement will repose in the Colin Parkinson Memorial Chapel, Lyndhurst Funeral Home on Friday, February 17, 2017, from 4:00 – 6:00 p.m.