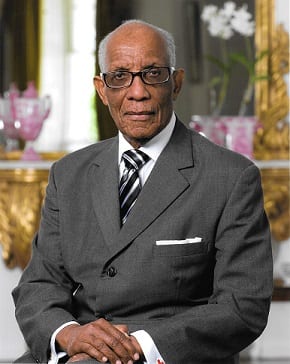 Sir Clifford Straughn Husbands
STATE FUNERAL
HIS EXCELLENCY SIR CLIFFORD STRAUGHN HUSBANDS, G.C.M.G., K.A., Former Governor General of Barbados, of "Seamoon", Mount Standfast, St. James, entered peacefully into rest on October 11, 2017.
Husband of the late Ruby Lady Husbands.
Father of Sandra Dawne Taylor, Anthony and Laura Husbands.
Grandfather of Maya and Leah Taylor.
Brother of Elsie Husbands, the late Noel and Aubrey Husbands, Glenn Sealy and Pelham Warner.
Father-in-law of Garth Taylor.
Uncle of Glyne Husbands.
The funeral service and interment of the late Sir Clifford Straughn Husbands, G.C.M.G., K.A., takes place on Friday, November 03, 2017 at 10:00 a.m. at St. Lucy Parish Church. Flowers may be sent to Lyndhurst Funeral Home, Passage Road, St. Michael, no later than 3:00 p.m. on Thursday, November 02, 2017.