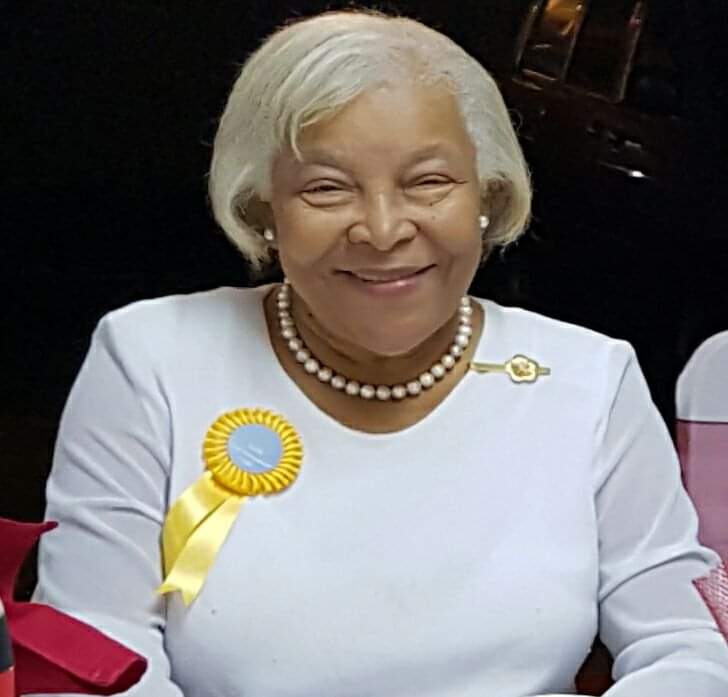 Valmay Arthur
VALMAY MARITA ARTHUR NÉE BENT, JP, SRN,
Born: May 12, 1948, aged 72
of Rose Hill, St. Peter. Retired Nurse of Queen Elizabeth Hospital, Ashton Clinic and Midwife of Huddersfield Royal Infirmary, West Yorkshire, UK.
Past Grand Matron of the Rita G Grand Chapter, Order of the Easter Star, former manager of the Super Gladiators Calypso tent, former member of the National HIV/AIDS Commission and the Barbados Registered Nurses Association.
Daughter of the late Frank and Iretha Arthur.
Mother of Dawn Bent-Williams of the Barbados Immigration Department.
Grandmother of Duane Williams.
Great Grandmother of Kamari Mitchell-Williams.
Sister of Richard Arthur, Patricia Roach, the late Professor The Rt. Hon Owen S. Arthur, Judy Edwards, Margaret and Arlette Arthur and Jacqueline Cumberbatch.
Mother-in-law of Andrew Williams.
Niece of Aubrey Arthur of the UK.
Aunt of Julian, Dionne, Sabrina, Ken, Kreig, Renaldo, NaTerry, Delayno, Dillion, Leah, Nicholas, Crystal, Richard Jr, and the late Sheldon Edwards and Kim Thompson.
Great Aunt of Selina, Rekiem, Danielle, Nhya, Isabelle and Aymar.
Cousin of Claudia Arthur, Dr. Elliott Doughlin, Sue Benn-Parris, Desmond Roach, David Stanford-Williams and Fay Roach.
Sister-in-law of Baldwin Edwards, Idalia and Julie Arthur.
Relative of the Arthur, Bowen, Stanford, Mahon, Gilkes, Roach and Benn families.
Friend of Jeanette Gremmel, Vashnee Squires, Jenise Belgraves, Pat Gill, Linda Bowen and Eleanor
Oliver.
The funeral leaves Lyndhurst Funeral Home, Passage Road, St. Michael on Saturday, December 19, 2020 for St. Peter Parish Church where relatives and friends are asked to meet at 10:00 a.m. for the service. The cortege will then proceed to Mount Pleasant Memorial Gardens for the interment. Flowers may be sent to Lyndhurst Funeral Home no later than 7:30 a.m on Saturday.
The body of the late Valmay Marita Arthur née Bent, JP, SRN will repose in the Colin Parkinson Memorial Chapel, Lyndhurst Funeral Home on Friday, December 18, 2020 from 4:00 to 6:00 p.m.
Please be advised that all COVID-19 restrictions will be observed.
To view to the live stream of the service, please click here.