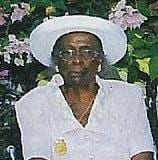 Agnes Angela Osbourne
OSBOURNE (nee JORDAN) – AGNES ANGELA, aged 87, of Lot 2 Bryden's Avenue, Brittons Hill, St. Michael, entered into peaceful rest on April 26, 2017.
Wife of the late Neville Adolphus Osbourne. Mother of Pamela Knight and Anthony Osbourne (both of the U.S.A), Michael, Marilyn, Francilla, Pamella, Stephen, Christopher, Patrick, Andrew and Peter Osbourne and Pauline Estwick and the late Cecelia Osbourne-Forde and Bernadine Osbourne-Stoute. Mother-in-law of Henderson Knight and Myrna Osbourne (both of the U.S.A), Ann-Marie and Wendy Osbourne, Tyrone Forde and Shawn Stoute. Grandmother of Cheryl Griffin Kathy Osbourne, Anthony Osbourne, Jr. and Sabrina Abraham (all of the U.S.A), Nkosi Osbourne (Antigua), John, Charlene, Christan, Shawntelle and Destini Osbourne, Dr. Paula Estwick, Renaldo Estwick, Aaron, Garmon and Rebecca Forde and Raheim Camacho. Great Grandmother of 12. Cousin of Winston, Laurie and Carol Jordan and the late Victor Jordan.
The funeral leaves Lyndhurst Funeral Home, Passage Road, St. Michael on Saturday, May 06, 2017 for St. Patrick Roman Catholic Church where relatives and friends are asked to meet at 9:30 a.m. for the service. The Organist and Choir are kindly asked to attend. Flowers may be sent to Lyndhurst Funeral Home no later than 7:30 a.m. on Saturday.