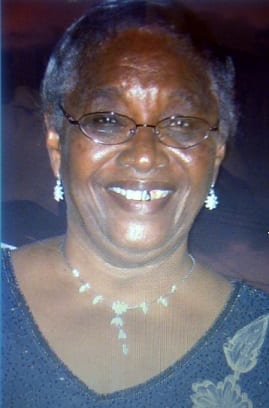 Alice Evon Grant
GRANT – ALICE EVON, aged 85, of Lot 404 Westwood Drive, Husbands, St. James, formerly of London, England and Brooklyn New York, entered into rest on December 20, 2017.
Mother of Gloria Elcock (USA), Rhonda, Pat and Trevor Grant (UK). Grandmother of Marc and Taryn Elcock (USA), Jason, Marie, Daniel, Johnathon, Robert, Ashley, Alexandra, Alice and Annalise Grant (UK). Great-Grandmother of Myles and Noah Elcock (USA), Amelia and Sienna Roye and Enson Grant (UK).
Sister of Thelma Husbands, June Blackman and Keith Forde. Aunt of Wendy Blackman Scott, June Thompson, Patricia Hasmat- Ali, Trudy Phillip (UK), Maria Carter, Angela Watts, Blondelle and Margaret Husbands and many others. Great Aunt of Samuel, Haley, Daley and Prince Carter, Samantha and Coretta Thompson, Shireen and Diallo Hasmat-Ali (UK), Antonio Watts and many others. Friend of Marketa Forde, Cynthia Barrow, Susan and Patrick Cheltenham and the Fergusson family.
A service of and thanksgiving will be held on Friday, January 19, 2018, at the Chapel of Coral Ridge Memorial Gardens, The Ridge, Christ Church, where relatives and friends are asked to meet at 10:00 a.m. for the service followed by a private cremation. In lieu of flowers donations to Ammar Empowerment Network will be graciously accepted.