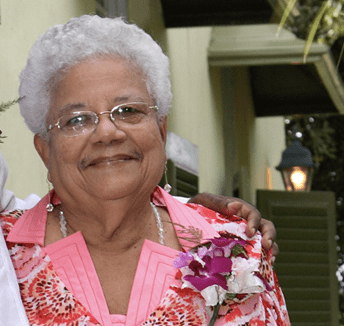 Anita Inniss
ANITA MARGUERITA INNISS, NÉE MATTHEWS, aged 87, of Welches Terrace, St. Thomas, entered into rest on January 15, 2021. Retired Civil Servant.
Daughter of the late Dr. Alexander Matthews and Daisy Matthews.
Devoted Widow of Keith Inniss.
Loving Mother of Keith Inniss Jr and Juliana Inniss.
Sister of Janice Newton, the late Crichlow Matthews, Irma (Sissy) Carew, Geraldine (Joyce), Victor, and Nelda Matthews.
Sister- in – Law of Dr. Edson Inniss, Charles and Dalton Inniss, the late Hyacinth Harris (Manchester UK), John Inniss, Avis Richards, Noreen Inniss (both of USA) and Norma Alleyne.
Mother – in – law of Tessa King- Inniss and Richard Goddard.
Grandmother of Katherine, Isaac, Nemani, Kainu and Ntigo.
Aunt of John Matthews, Suzanne King, Margot and Antony Carew, Alix Lewis, Peter and Philip Matthews, Patrick Newton, Philippa King and Paula Hunte, Leila Rivière, Adrian Carew and Monique Carew, Jason Lewis, Lesley Newton, Perren King, the late Christine Rocheford, Joycelyn MacDonald Carew, and June Carew.
Friend of George and Eleanor Small, Ruby Johnson, Leeds Greaves, Anita Daniel, Helena Lamontagne, Grace Ifill, Linda Earl, David Skinner, Shirley King, Margaret Greene.
Relative of the Matthews, Carew, Inniss, King and Goddard families.
The family invites you to view the live streaming of the service on Thursday, January 28, 2021, at 10:00 a.m.., followed by a private cremation. In lieu of flowers, donations to the Barbados RSPCA will be graciously accepted. The body of the Anita Marguerita Inniss, née Matthews will repose in the Colin Parkinson Memorial Chapel, Lyndhurst Funeral Home, on Wednesday, January 27, 2021, from 4:00 – 6:00 p.m.
To view to the live stream of the service, please click here.