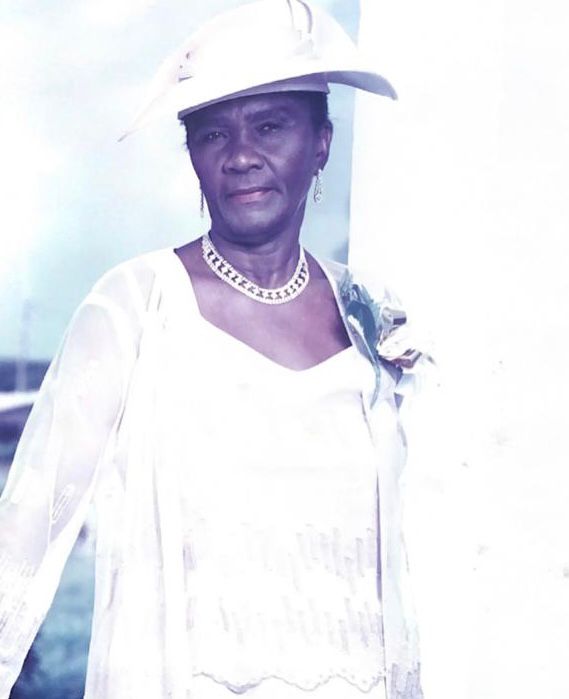 Beryl Greaves
BERYL ADELLE GREAVES, aged 78, of Long Bay, St. Philip, entered peacefully into rest on October 28, 2021. Retired Head Cook of the St. Philip District Hospital.
Daughter of the late Norma Greaves and Sonza Blades.
Widow of Eustace Greaves.
Loving mother of Diane Grazette, Sophia Waithe (née Greaves), Roseanne, Paulette, Mark (UK) and Robin Greaves.
Grandmother of Shari, Ashlee, Zalika, Raquel (China), Danielle, Andwele, Ayesha, Damani, Zawdie and Xia.
Great-grandmother of Shania and London.
Mother-in-law of Noel Grazette and Nneka Crichlow.
Sister of Rosita (UK), Edward, Utaveen, Maggie and Woseley Greaves (Canada), Sylvan and Marion Greenidge, Joyce Boyce, Yvonne Hampden, Jean Savoury, Patsy Blades, the late Jennifer Greenidge, June Bushelle and Edith Haynes.
Aunt of Lisa (USA), Margaret, Felicia, Allison, Joyann, Ronald, Mark, Margaret and Stephen (UK), Jefferson, Melissa, Judy, Harriette, Janelle, Janese, Marissa, Sheldon (USA), Vanessa (USA), Shenelle (Canada) and many more.
Niece of the late Adelle Harding and many more.
Cousin of Rebecca Greaves, Antha Kinch and many more.
Relative of the Greaves, Greenidge, Blades, Stoute, Alleyne, Sargeant and Hunte families and many more.
A service of celebration and thanksgiving will be held on Thursday, November 11, 2021 at 3:00 p.m. The tributes will begin at 2:30 p.m. Flowers may be sent to Lyndhurst Funeral Home no later than 1:00 p.m. on Thursday. The body of the late Beryl Adelle Greaves will repose in the Colin Parkinson Memorial Chapel, Lyndhurst Funeral Home on Wednesday, November 10, 2021 from 4:00 -6:00 p.m. Kindly note that all COVID-19 protocols will be in effect.
The family invites you to view the live streaming of the service; to view, please click here.