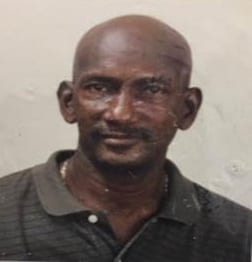 Caesar St. Elmore Romeo
Sunrise – 05 Feb 1944        Sunset – 12 Dec 2017
CAESAR ST. ELMORE ROMEO, better known as Robert Romeo or Tall Boy, of Bartletts Tenantry Road, Sargeants Village, Christ Church.
Son of ­­­­­­­­­­­­Verney Floretta Taylor & Henry Deshong
Father of Caroll, Manuel & Conway Weekes, Tyreek & Tyrell Payne, Randy, Kesha, Shevon and the late Penny Romeo (Trinidad)
Brother of­­­­­­­­­­­­­­­ Travis & Gaylene Romeo, Marva Sutherland and the late Kingsley Jeffers
Grandfather of Shamani, Isaiah, Tashante, Josiah, Jediah and three others
Brother-in-law of Joan Jeffers and Stephen Burke
Uncle of Shirla, Ivy, Stephen, Roslyn, Troy, Adrian, Dwayne, Paula and Katrina
Special Friend of Valerie Payne and Angela Weekes
Relative of the Deshong family of Layou St Vincent and the Shallow & Miller families of Trinidad
A service of celebration will be held on Friday, December 22, 2017, at the Bethel Methodist Church, Bay Street, St. Michael, where relatives and friends are asked to meet at 10:00 a.m. for the service. The cortege will then proceed to Coral Ridge Memorial Gardens for the interment. Flowers may be sent to Lyndhurst Funeral Home no later than 7:30 a.m. on Friday. The body of the late Caesar St. Elmore Romeo will repose in the Colin Parkinson Memorial Chapel, Lyndhurst Funeral Home on Thursday, December 21, 2017, from 4:00 – 6:00 p.m.