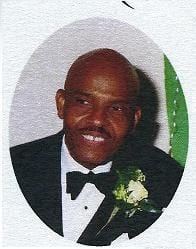 Calston Alphonso Brathwaite
BRATHWAITE – CALSTON ALPHONSO, late of Windward Gardens, St. Philip, entered into rest on March 23, 2017.
Loving Husband of the late Muriel Brathwaite. Father of Errol, Winfield and Rudolph Lashley, Colin Muhammad, Wendy Forbes (U.K.) and the late Cynthia Lashley. Grandfather of Jacalyn Forbes, Justin Lashley and 9 others. Great Grandfather of 4. Brother of Frederick and St. Clair Brathwaite, Edna Straughn (all of the U.K.), Leroy and Winston Stuart and the late Florence Bascombe (U.K.). Beloved Uncle of Steven Brathwaite, Vere Stuart, Sam Bascombe, Pauline Wharton, Angela Browne and 20 others. Relative of the Brathwaite, Mason and Stuart families. Cherished Friend of Leroy Maynard, Campbell Maynard, Denzil Greaves, Earl and Esther Rock, Ivan Sealy, Lynell Lashley, Adwina Ming (Bermuda) and many others.
The funeral leaves Lyndhurst Funeral Home, Passage Road, St. Michael on Monday, April 03, 2017 for the Church of Holy Trinity, Ruby, St. Philip, where relatives and friends are asked to meet at 1:30 p.m. for the service. The cortege will then proceed to Coral Ridge Memorial Gardens for the interment. Flowers may be sent to Lyndhurst Funeral Home, no later than 11:30 a.m. on Monday. The body of the late Calston Alphonso Brathwaite will repose in the Colin Parkinson Memorial Chapel, Lyndhurst Funeral Home, on Sunday, April 02, 2017 from 4:00 – 6:00 p.m.