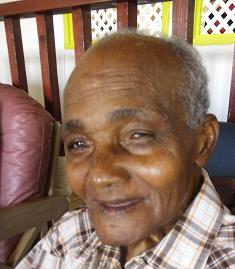 Clayton McDonald Griffith
CLAYTON MCDONALD GRIFFITH, aged 90, affectionately known as "Da", of Ocean View Nursing Services, Graeme Hall, Christ Church and formerly of 98 Clapham Park, St. Michael, retired employee of the Barbados Light and Power Company Ltd, entered into rest on August 17, 2017.
Husband of the late Etheline Griffith.
Father of Judy Pierre, Peggy Griffith, Philomel Griffith, Coral Thorne, Harriet Bynoe, Heather Forde, Nancy Haynes, Shirley Vaughn, Clayton Jr. and Stephen Griffith. .
Grandfather of Nigel Jr., Jimmy and Shelly-ann Pierre, Dr. Lisa Reid, Renee Forde, Noel Thorne, Jadeson, Raymond and Shalaina Bynoe, Adara Haynes, Shane and Sean Vaughn.
Great Grandfather of eight.
Brother of Reverend Mavis Durant, Ellerton and Alfred Brown.
Father-in-law of Nigel Pierre Sr., Errol Bynoe, Roosevelt Forde, Andrew Haynes, Steve Vaughn and Carolyn Griffith.
Uncle of many.
Relative of the Griffith, Durant, Brown and Headley families.
Friend of the staff and residents of Ocean View Nursing Services, the Proverbs family and many others.
The funeral leaves Lyndhurst Funeral Home, Passage Road, St. Michael on Thursday, September 07, 2017 for James Street Methodist Church, James Street, Bridgetown St. Michael, where relatives and friends are asked to meet at 2:00 p.m. for the service. The cortege will then proceed to Coral Ridge Memorial Gardens Tranquility Lawns for the interment. Flowers may be sent to Lyndhurst Funeral Home no later than 11:00 a.m. on Thursday.