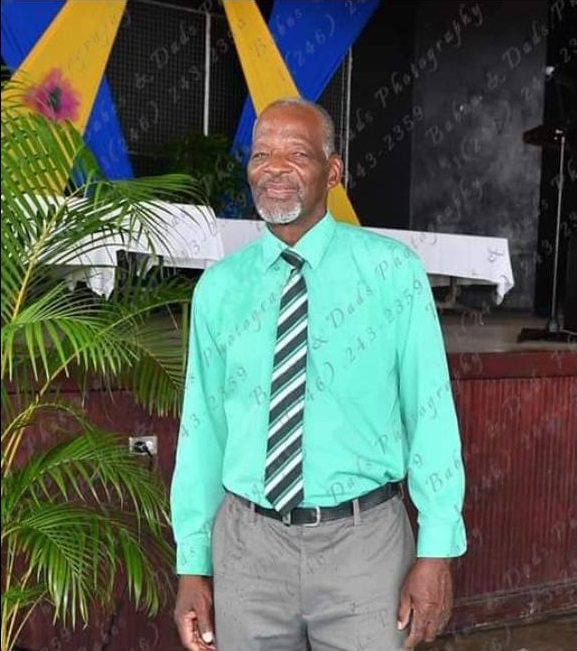 Cleveland Grazette
CLEVELAND ORLANDO GRAZETTE, also known as "Tape" or "Walkie" of East Point, St. Philip entered into rest on September 29, 2021.
Son of the late Rupert and Verne Jordan.
Husband of Naomi Grazette.
Father of Ashida Grazette and Kerry Harewood.
Stepfather of Sherrianne Sparrock and Tristan Howell.
Grandfather of Adariah Grazette-Greaves, Kobie Harewood, Amiyah Foster and Kadeem Chase.
Brother of Eugene Glasgow, Kendrick Grazette, Angela Sealy, Harriett Jordan-Terry, Curtis and Terry Jordan and Patricia Jordan-Coward.
Uncle of Susan Grazette, Shonelle Farrell, Shakeem Sealy, Cindy Jordan, Shaquila Straker and many more.
Cousin of Donna and Henderson Straughn, Michael and Stephen Mason and others.
Brother-in-law of Erskine Sealy, Russell Coward, Alex Terry, Veronica Connell, Beverley Bovell, Avonda Foster, Jan King, Keiza Jordan and the late Percival Glasgow.
Nephew of Lythcott Jordan, Alston Mason, Marjorie Hunte, Joan Husbands and Elmin Coppin.
Relative of the Grazette, Stuart, Jordan, Mason and Brathwaite families.
Friend of Sen. Hon. Rudolph "Cappy" Greenidge, Eleanor Clarke, Patrick Grazette, Ellis Knight, Movelle Jordan, Gordon Benskin, Cleaston Greenidge, Derwin Thompson, David Mason, Joan and Marva Maynard, Delbert Griffith, Ciseley "Missy" Brathwaite, Yvette Hall and Donna King. The Principle and Staff of Springer Memorial School, Members of the St. Catherine Cricket Club, the Almond Tree Group and the Marley Vale Community.
A graveside service to celebrate the life of Cleveland Orlando Grazette will be held on Wednesday, October 13, 2021 at 4:00 p.m. Flowers may be sent to Lyndhurst Funeral Home no later than 12:00 p.m. on Wednesday. Mourning colours are optional. The body of the late Cleveland Orlando Grazette will repose in the St. Catherine Sports and Social Club on Wednesday, October 13, 2021 from 1:00 – 3:00 p.m. Kindly note that all COVID-19 protocols will be in effect.
The family invites you to view the live streaming of the viewing; to view, please click here.
The family invites you to view the live streaming of the service; to view, please click here