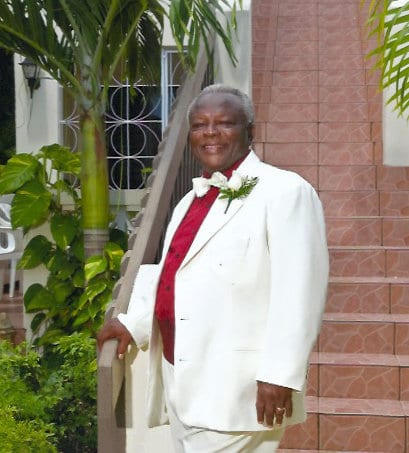 Darnley Dacosta Hewitt
DARNLEY DACOSTA HEWITT, formerly of #200 Bagatelle Terrace, St. James, entered into rest on December 04, 2018.
Son of James and Aretha Hewitt.
Husband of Frederica Hewitt.
Father of Derek Hewitt and Celeste Hewitt-Ruan.
Step-father of Julia Perciver, Anthia Buncome and Bernadette Chikowore-Hewitt.
Grandfather of Darrio Hewitt (USA), Lauren Ruan (USVI), Deandra Hewitt (USA) and Derek LeBanks (USA).
Great-grandfather of Kaj Baron.
Brother of Marjorie Inniss (UK) and Marion Trotman.
Uncle of Phyllis and Juanita Hewitt, Cleveland Holder, Ricky Inniss (UK), Garfield Hewitt (UK), Ramon Trotman and the late Victor Hewitt.
Father-in-law of Sandra Hewitt.
Brother-in-law of Sally Commisong and siblings.
Friend of Dr. Boamah, Mrs. Boamah, Coleridge Small, Wayne Best, Victor Nichols, Theodore Powell (USVI), Winston Hurst and Denis Armstrong (USVI).
Relative of the Hewitt and Herbert families.
A service of celebration and thanksgiving will be held on Thursday, December 20, 2018 at the Chapel of Coral Ridge Memorial Gardens, The Ridge, Christ Church, where relatives and friends are asked to meet at 2:00 p.m. for the service and interment. Flowers may be sent to Lyndhurst Funeral Home no later than 12:00 p.m. on Thursday. The body of the late Darnley Dacosta Hewitt will repose in the Colin Parkinson Memorial Chapel, Lyndhurst Funeral Home on December 19, 2018, from 4:00 – 6:00 p.m.