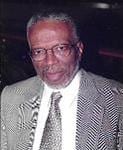 Desmond Rodwell Broomes
DESMOND RODWELL BROOMES, Ph.D, aged 88, of "Homestead", Lodge Hill, St. Michael, entered peacefully into rest on Saturday, January 07, 2017.
Husband of the Honourable Madam Justice Elneth O. Kentish, retired High Court Judge.
Former Husband of the late Clarion Broomes.
Son of the late Jacob and Ethel Broomes of Triumph Village, ECD Guyana.
Brother of Pheris Humphrey (UK), and the late Gary Broomes, Judge Gerard Broomes, Clefrin Broomes, Joyce Wolfe, Marjorie Ward and Lilith Broomes, formerly of Guyana.
Father of Ronald Broomes and the late Esmond Broomes, Deslin Broomes and Clairmont Broomes.
Grandfather of Soyinka Broomes and Damani Broomes (Anguilla).
Several nephews and nieces, too numerous to mention, residing in the UK, USA and Guyana.
Brother-in-law of Nola Broomes (USA), Bernice Broomes, (UK), George Kentish, Joyce Kentish-Egan, QC, Tobias Kentish and Lorna Rogers (all of Anguilla).
Friend of Tony and Sylvia Philips, John and Lucy Steward, Dr. Stafford Griffith (Jamaica), Rev. Christine Cole-Crosby (USA), Dr. Alfred Sparman, Dr. DaCosta Thompson, Wilfred and Pauline Beckles, Glenroy Cumberbatch, Dr. Lenda Blackman, Dr. Desiree Christie (Cayman), Cheryl Stephens (Trinidad) and Marva Blenman.
The funeral leaves Lyndhurst Funeral Home Passage Road, St. Michael on Monday, January 16, 2017, for the Chapel at Coral Ridge Memorial Gardens, where relatives and friends are asked to meet at 2:00 p.m. for a celebration of the life of Desmond Broomes and his interment. No flowers by special request. Donations to St. Leonard's Boys Secondary School would be gratefully appreciated. Relatives and friends may pay their last respects at the Colin Parkinson Memorial Chapel on Sunday, January 15, 2017, from 4 – 6 p.m.