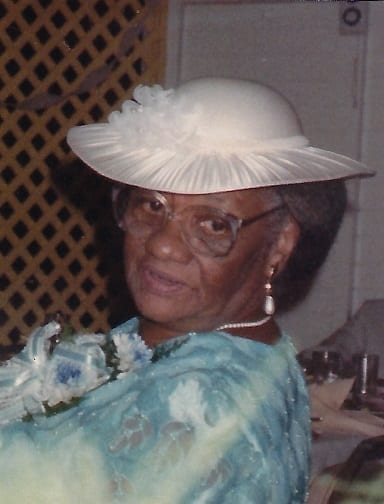 Eulene Cynthia Reifer
EULENE CYNTHIA REIFER NÉE BOSTIC, aged 96, of Arthur's Road, Parish Land, St. George, formerly of Manning Village and Workmans, entered peacefully into rest at BayView Hospital on Saturday, February 17, 2018.
Widow of Eustace Reifer
Mother of Errol, Fred (Tony), Herbert, Leslie, George and Major Selwyn Reifer, Barbara Reifer-Riddick, Sandra Reifer Johnson and the late Jeffrey and Elvis Reifer.
Grandmother of Floyd, Shawn, Cherian, Dawn, Mary, Caroline, Sandra, Harold, Anne, Natasha, Tamara, Jan Leach, Dr. Renee Johnson, Natalie, Nico, Jermaine, Jamal, Leslie Jr., Mykell, Latoya, Lisa, Bernadette, Jenny, Corey, Raymon, Ria, Chad, Mishcha, Jordan, Cyndi, Dwayne and Kezra.
Great Grandmother of many
Sister of Joyce Fenty, the late Ira Rollins and Darnley and Edwin Bostic.
Aunt of many.
Mother-in-Law of Orma, Rosemary, Diana, Diane, Angela and Anne Reifer, Carol Roberts and Oliver Riddick.
Relative of the Barker, Bostic, Carter, Rollins and Reifer families.
The funeral leaves Lyndhurst Funeral Home, Passage Road, St. Michael on Tuesday, February 27, 2018, for St. George Parish Church, where relatives and friends are asked to meet at 3:00 p.m. for the service. The cortege will then proceed to St. Luke's Churchyard for the interment. Flowers may be sent to Lyndhurst Funeral Home no later than 12 noon on Tuesday. The body of the late Eulene Cynthia Reifer will repose in the Colin Parkinson Memorial Chapel, Lyndhurst Funeral Home on Monday, February 26, 2018, from 4:00 – 6:00 p.m.
Condolences may be sent to www.lyndhurstfuneralhome.com