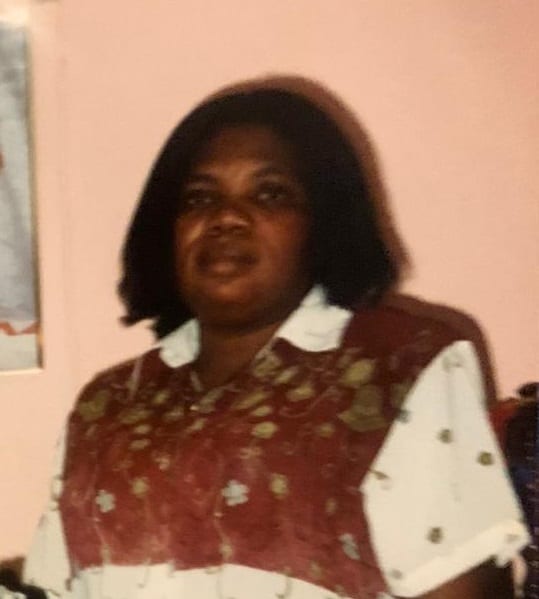 Evadne Bushell
BUSHELL – EVADNE CINDY, aged 56 of Orika Gardens, Cane Garden, St. Thomas, entered into rest on November 18, 2020. Daughter of the late Louise Black and David Powell. Mother of Jermaine Beckford, Maryann Powell and the late Marva Bushell. Grandmother of Kirazi Beckford, Amari and Tiana Powell. Sister of Elisa Elizabeth Lawrence, Gertrude Howard, Merlene Gaynor (deceased), Kathleen Richardson (deceased), Glenroy Washington, Jessie and Earl Gordon. Aunt of Georgiana, Paulette, Eian and Shawn Harris, Shanice, Sade and Daryl Howard, Angelique Mohan and many others. Niece of many. Cousin of many. Relative of the Black and Powell families of Jamaica. Friend of Valarie Branch, Esther Ramsey, Marita Bradshaw, Victoria Lovell, Cynthia Jones, Norma Blenman, Sonia Eastmond, Donna Thomas, Sharon Jacobs and many others. A service of celebration and thanksgiving will take place on Wednesday, December 09, 2020 at Power in the Blood Assembly, Corner of Kew Road and Tudor Bridge, St. Michael, where relatives and friends are asked to meet at 10:00 a.m. The cortège will then proceed to Coral Ridge Memorial Gardens, The Ridge, Christ Church for the interment. Flowers may be sent to Lyndhurst Funeral Home no later than 7:30 a.m. on Wednesday. The body of the late Evadne Cindy Bushell will repose in the Colin Parkinson Memorial Chapel, Lyndhurst Funeral Home on Tuesday, December 08, 2020 from 4:00 – 6:00 p.m.
To view the live stream of the service, please click here.
To view the live stream of the burial, please click here.