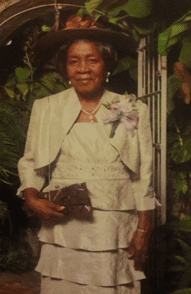 Frederica Brenhilda Cobham
FREDERICA BRENHILDA COBHAM, NÉE LEACOCK, formerly of Thorpe's Cottage and late of 4th Ave, Alleyne's Land, Bush Hall, St. Michael.
Widow of Arindell Horace Cobham.
Mother of Grafton (Retired Teacher), Marva (Retired Teacher), Angela (Housekeeper-Cornwall House), Horace (Retired Banker) and Cecile Cobham (formerly of ICB and the General Post Office).
Grandmother of Antonio, Jamila, André, Simone, Michael, Jason, Steven, Randisha, Kareem,
Mariah and Zackary.
Great-grandmother of three.
Twin sister of Darnley Leacock.
Sister of Norma Mascoll, Frank, Cicely and Denis Leacock, Evelyn Cox and Cynthia and the late Lolita White (Canada).
Aunt of many.
Mother-in-law of Randal Mayers and Karen Gurdon-Cobham.
Sister-in-law of Patricia, Violet, Frank, Neville, and Carmen Cobham and Vernese and Hazel
Leacock.
Friend of Gloria White (N.A.B) and the Williams, Clarke and Leacock families of Thorpe's Cottage, St. George.
The funeral leaves Lyndhurst Funeral Home, Passage Road, St. Michael on Monday, April 23, 2018, for St. George Parish Church where relatives and friends are asked to meet at 2:30 p.m. for the service and interment. In lieu of flowers donations to the Accident and Emergency Department of the Queen Elizabeth Hospital will be graciously accepted.
Hourly Schedule
Day 1
1:30

-

2:30

Viewing
2:30

-

3:30

Service
3:30

-

4:30

Burial

Churchyard