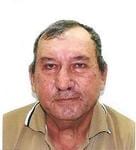 Gerard Michael Chandler
CHANDLER – GERALD MICHAEL, better known as "Cruncher" of No. 6, Fan House, Ventnor Gardens, Christ Church, entered into rest on January 13, 2017.
Son of the late Vernon and Wilzie Chandler. Brother of William Chandler, Jean Gilkes, Phyllis Turney, Diana Butler, Claudette Martin and Elizabeth Boulieneau (both of U.S.A.), Molly Halelden (U.K.) and the late Brian Chandler. The funeral leaves Lyndhurst Funeral Home Passage Road, St. Michael on Thursday, February 02, 2017 for Westbury Cemetery, where relatives and friends are asked to meet at 10:00 a.m. for the service and interment. In lieu of flowers, donations made to the R.S.P.C.A. would be appreciated.