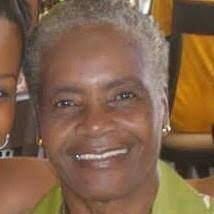 Gloria McIntosh
On Thursday, November 1st 2018 our beloved GLORIA MCINTOSH NEÉ MASCOLL aged 75, of Gospel Hall Gap, Dayrell's Road, Christ Church formerly of Weekes Land, Goodland St. Michael was taken away from us to be with her Heavenly Father.
Widow of Victor "Tyrone" McIntosh.
Daughter of the late Ursula Mascoll and Isaac Belle.
Loving mother of Sharon Mascoll (Managing Director of FHL Service Station).
Devoted grandmother of Aleka Mascoll (Teacher of Eden Lodge Nursery School), Akil Mason and Victoria Caddle (Student of the UWI Cave Hill).
Great-grandmother of Asher, Ajani and Joshua.
Sister of Joyce Carrington, Carlisle and Lawrence Mascoll, Gracelyn Greenidge, Ima Maynard and Neville Nurse.
Aunt of Colvin, Jeffrey, Hadley, Yvette, Rosemary and Ambassador Clyde Mascoll, Maureen Holder, Wendine Prince, Adale Greenidge, Amanda Nurse, Lana Smith and many others.
Great aunt of many.
Relative of the Mascoll, Carrington, Alleyne, Gaskin and Belle families.
Dear friend of Venetia Lewis (Canada) and Monica Simmonds (USA).
The funeral leaves Lyndhurst Funeral Home, Passage Road, St. Michael on Monday, November 12, 2018, for Dayrell's Road Gospel Hall, Christ Church where relatives and friends are asked to meet at 2:00 p.m. for the service. The cortege will then proceed to Westbury Cemetery for the interment. Flowers may be sent to Lyndhurst Funeral Home no later than 12 noon on Monday. The body of the late Gloria McIntosh will repose in the Colin Parkinson Memorial Chapel, Lyndhurst Funeral Home on Sunday, November 11, 2018, from 4:00 – 6:00 p.m.