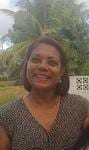 Jacqueline Mottley-Julien
JACQUELINE MOTTLEY-JULIEN, better known as "Jackie", of Kingsland Gardens, Christ Church, entered peacefully into rest on November 10, 2016.
Daughter of Phyllis Mottley and Neville Hunte.
Mother of Ricardo Mottley, Kayla and Zarina Julien.
Sister of Jason, Steven and Clarence Hunte and the late Ricardo and Colin Hunte.
Former wife of Edward Julien.
The funeral leaves Lyndhurst Funeral Home, Passage Road, St. Michael on Thursday, November 24, 2016, for James Street Methodist Church, where relatives and friends are asked to meet at 10:00 a.m. for the service. The cortege will then proceed to Coral Ridge Memorial Gardens for the interment. Flowers may be sent to Lyndhurst Funeral Home no later than 8:00 a.m. on Thursday.