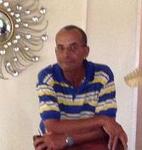 John Anderson Walcott
John Anderson Walcott of Sunbury Land, St. Philip, entered into peaceful rest on February 02, 2017. Employee of Skyline Cargo, Grantley Adams International Airport.
Son of The Late Robert & Lillian Walcott
Father of Steve Miller & Dwayne Olton
Brother of Grace Grimes (USA), Errol Walcott (Chefette Restaurants & Protech Inc), Lena Walcott-Bascombe, Mavis & Corletta Walcott.
Brother-in-law of Hazel Gill Walcott, Nathaniel Bascombe, Terrance Grimes & Teddy Layne
Grandfather of Reshonna, Dieshon & Seila
Uncle of Dawn, Rommel, Robyn & Toni Walcott & Tiffany Grimes (All of USA), Stefan Greenidge, Sophie, Charles & Peter Walcott
Nephew of Patricia Breedy, Shirley Gooding & Evon Butcher
Cousin of Andrea Belle, Judy Bishop, Egan Gooding, Lemuel Rollins & Brenda Reid
Relative of the King, Alleyne, Butcher, Gooding, Breedy, Clarke, Pope, Rawlins, Reid & Franklyn Families
Friend of Darcy Miller, James Weekes, Jeffrey Carrington, The management and staff of Skyline Cargo & Many others
The funeral leaves Lyndhurst Funeral Home, Passage Road, St. Michael on Friday, February 10, 2017, for St. Philip Parish Church, where relatives and friends are asked to meet at 4:00 p.m. for the service and interment. The Organist and Choir are asked to attend. Flowers may be sent to Lyndhurst Funeral Home no later than 1:30 p.m. on Friday. The body of the late John Anderson Walcott will repose in The Colin Parkinson Memorial Chapel, Lyndhurst Funeral Home on Thursday, February 09, 2017 from 4:00 – 6:00 p.m.