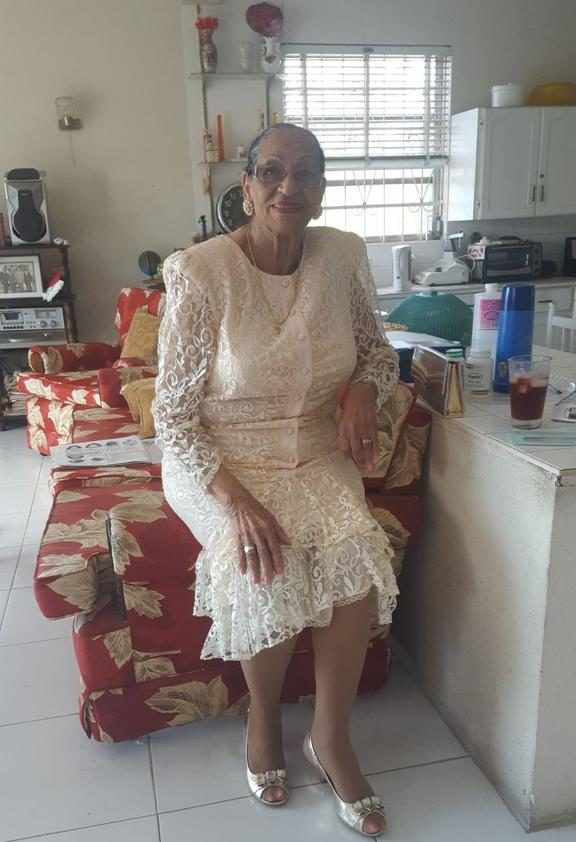 Joyce Toppin
December 27, 1931 – February 13, 2022
JOYCE ERNESTA TOPPIN, aged 90, of Adam's Castle, Christ Church, entered into rest on February 13, 2022.
Daughter of the late Elias and Mildred Warner.
Widow of Audley St. Clair Toppin.
Mother of Dr. Roland Toppin, Ronald Toppin and the late Robert and Edmund Toppin.
Sister of Anita Gittens, Trevor and Dennis Warner and the late Daphne Barnett, Dainey, Lionel and Cecil Warner.
Grandmother of Dr. Raquelle Toppin, Priscilla, Rachael, Ryan and Rennae Toppin.
Great-grandmother of Joshua Toppin.
Mother-in-law of Judith Toppin and Joannie Worrell.
Aunt of Michael Barnett, Lisa Lewis, Jozette Holder, Tracy Barrow, Jozelle, Stuart and Della Warner.
Great-aunt of many.
Cousin of Kirton Pollard, Barbara Corbin and many others.
Relative of the Warner, Beckles and Pollard families.
Friend of Dr. Dorothy Millington, Doreen Brewster, Anita Miller, Margot Rawlins-Crichlow, Margaret Mose, Gladwyn Clarke, Waple Reid, the Rocheford, Murrell, Wilkinson, Headley and Thorington families and many others.
A service of celebration and thanksgiving will be held on Tuesday, February 22, 2022 at St. Mary Anglican Church, where relatives and friends are asked to meet at 3:00 p.m. for the service, followed by the interment. Flowers may be sent to Lyndhurst Funeral Home no later than 1:00 p.m. on Tuesday. The body of the late Joyce Ernesta Toppin will repose in the Colin Parkinson Memorial Chapel, Lyndhurst Funeral Home on Monday, February 21, 2022 from 4:00 – 6:00 p.m. Kindly note that all COVID-19 protocols will be in effect.
The family invites you to view the live streaming of the service; to view, please click here.