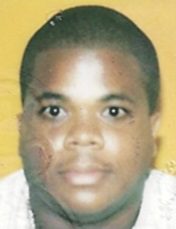 Keenan Toppin
TOPPIN – KEENAN PRESTON, of North Wildey Terrace, St. Michael entered into rest on October 02, 2021.
Son of Margaret Toppin (Her Majesty's Prison) and the late Roderick Toppin. Grandson of Etheline Padmore. Brother of Karen (St. Michael's School) and Kevin Toppin and Ryan Cumberbatch. Nephew of Anderson and Angela Toppin (Sewing World), Valma and Hadley Alleyne, Diana Franklyn, Maureen Small, Anthony, Arlette, Michelle and Richard Padmore, Denise, Donna, and Wayne Connell. Cousin of Anderson Toppin Jr., Karen Padmore, Keil and Kent Alleyne, Shawn Browne, Natalie and Rechelle Harewood and many others. Uncle of Amani and Kenya Toppin and seven others.
A service of celebration and thanksgiving will be held at the Restoration Ministries International, Brittons Hill, St. Michael on Wednesday, October 20, 2021 at 3:00 p.m. The body of the late Keenan Preston Toppin will repose in the Colin Parkinson Memorial Chapel, Lyndhurst Funeral Home on Tuesday, October 19, 2021 from 4:00 – 6:00 p.m. Kindly note that all COVID-19 protocols will be in effect.
The family invites you to view the live streaming of the service; to view, please click here.