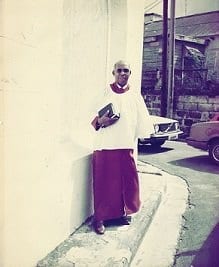 Keith Alvin Riviera
KEITH ALVIN RIVIERA, of 113 Parkinson Field, Pinelands, St. Michael, entered into rest on Monday, February 05, 2018. A long-standing choir member of St. Ambrose Anglican Church for 73 years and member of The Barbados Festival Choir.
Husband of Jean Riviera (Retired Education Officer)
Father of Keith Riviera (Accra Beach Hotel and Spa)
Grandfather of Monyata and Julian Riviera
Brother of Ronald Riviera (B.V.I) and the late Orville, Leon and Monica Riviera.
God-father of Rawle Clarke
Uncle of Harriette, Doriel, Eddie, Rose, Terry, Janet, Bert, Sandra, Margaret and the late Roland Riviera
Brother-in-law of Heather Forde-Butcher and Andrea Corbin-Hodge (B.V.I.), Heather Hunte, Angela Olivo, Alexia Daisley and Hugo Hunte (U.S.A.) and Marilyn Forde.
Friend of Wendle Sealy, Sir Marston Gibson, K.A., Walter and Randolph Oxley, Robert Bishop (U.S.A.) and the members of St. Ambrose Anglican Church
The funeral leaves Lyndhurst Funeral Home on Thursday, February 15, 2018, for St. Ambrose Anglican Church, where relatives and friends are asked to meet at 10:00 a.m. for the service. The cortege will then proceed to the Coral Ridge Memorial Gardens for the interment. Flowers may be sent to Lyndhurst Funeral Home no later than 7:30 a.m. on Thursday. The body of the late Keith Alvin Riviera will repose in the Colin Parkinson Memorial Chapel, Lyndhurst Funeral Home on Wednesday, February 14, 2018, from 4:00 p.m. – 6:00 p.m.