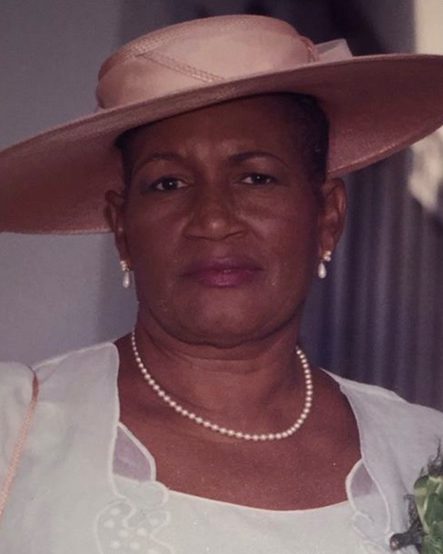 Lamonte Grazette
LAMONTE CAROLINE GRAZETTE, aged 78, lovingly known as "Sheila" of Sutton Way, Grazettes, Landing Scheme, St. Michael entered peacefully into rest on August 03, 2021. Well known Baxter's Road Fish Vendor.
Daughter of the late Naomi Grazette and Hugh Parker-Cummins.
Mother of Andrea, Karen, Sandra and Terry Grazette.
Grandmother of Kimberley Husbands (immigration officer), Tina, Adrian and Lamar Grazette, Tiffany Small, Kriston and Josiah Grazette.
Great Grandmother of Kiara Prosper and Chelsea Grazette.
Sister of Adolphus (UK) and Athelston (Bahamas) Grazette, the late Maria Thorne, Darnley and Seymour Ward.
Aunt of Dr. Shirley Hosford (Pat) and Jeanether Taylor (USA), Edmund, Beverley and Kay Grazette, Marva, Paulette and Frank Jr. Thorne, Vanessa Walker (UK), Denise and Dale Grazette (UK), Deborah, Sean and Wayne Grazette, Kyla Ferguson (Bahamas).
Great aunt of many.
Mother-in-law of Calvin Husbands and Tracey Grazette.
Sister-in-law of Kathleen Leacock-Myrie, Pearl and Barbara Grazette.
Cousin of Pauline Applewhite, Valance and John Grazette. St. Clair Prescott, Anthony, Angela, Junior, Donna, Marva, Maureen, Gregory (USA), Phyllis Grazette, Judy Scott-Kellman (UK) and many more.
Friend of Shirley and Gloria Brathwaite, Randolph Ifill, Darwin Clarke, Emmerson Boyce, Marcia Cox, Andrea Paris, Edgar Atkins, Marjorie Gilkes, Andrea's Bar (Crab Hill St. Lucy) and the entire Grazettes Community.
The funeral leaves Lyndhurst Funeral Home, Passage Road, St. Michael on Monday, August 23, 2021 for Bethel Methodist Church, where relatives and friends are asked to meet at 1:30 p.m. for the service. The cortege will then proceed to Westbury Cemetery for the interment. Flowers may be sent to Lyndhurst Funeral Home no later than 11:30 a.m. on Monday. The family invites you to view the service via live streaming. The body of the late Lamonte Caroline Grazette will repose in the Colin Parkinson Memorial Chapel, Lyndhurst Funeral Home on Sunday, August 22, 2021 from 4:00 – 6:00 p.m.
To view the live stream of the service, please click here