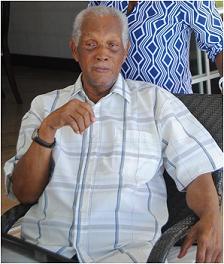 Lionel "Jules" Jordan
13 JUNE 1928 – 12 APRIL 2017
LIONEL 'JULES' JORDAN, BJH, of No. 3, Holborn Terrace, Wilcox, Christ Church. Former Comptroller of Customs.
Husband of Vincent Jordan.
Father of Jacqueline Rogers and Gillian Crawford (both of the USA), Gerard and Rosemary Jordan and Cheryll Moseley
Father-in-law of Evan Rogers and Charles Crawford (both of the USA), John Moseley and Sandra Jordan.
Grandfather of Andre and Jamal Jordan, Christopher, Raquel and Aisha Moseley and Jordan and Erica Crawford.
Great Grandfather of Azaria Jordan
Relative of the Scott, Gittens and Forbes families.
The funeral leaves Lyndhurst Funeral Home, Passage Road, St. Michael on Friday, April 21st, 2017 for The Chapel of Coral Ridge Memorial Gardens, The Ridge, Christ Church where relatives and friends are asked to meet at 3:00 p.m. for the service and interment. The Organist is kindly asked to attend. Flowers may be sent to Lyndhurst Funeral Home no later than 10:00 a.m. on Friday.