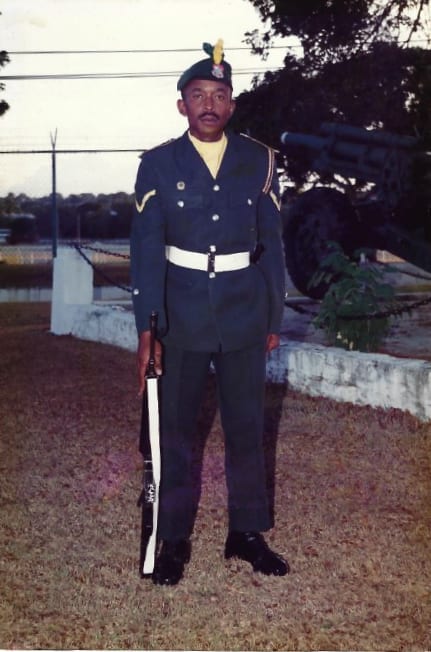 Lionel Mascoll
LIONEL OSWALD MASCOLL, aged 58, also known as "Sammy", late of 1K Pavilion Terrace, Deacons Farm, St. Michael entered into rest on April 16, 2019. Retired Corporal of the Barbados Defence Force. Member of the Barbados Legion and Former Student of Combermere School.
Son of the late Esther Hoyte-Nicholls and Wilbert Mascoll.
Father of Jamon Mascoll and Jahbarrie Walcott.
Grandfather of Jahtaija Walcott.
Grandson of the late Rev. Dalton Hoyte and Miriam Hoyte (Christian Mission Church).
Beloved Nephew of Grace Hoyte-Mottley and Peter Mottley, Mary and David Hinds (UK) and Joy and Charles Grazette.
Cousin of Doug Hoyte, Ian and Antonia Gooding-Edghill, Andre Rollins, Troy Greaves, Stacy Gibson, Courtney Deane, Sean Hinds (UK), Sherry-Anne McNeil, Kerry, Daniel and Natasha Hoyte (USA) Tessa, Everil, Hewlyn and Loris Heywood (Guyana), Ruth Hoyte (Virginia) and the Hoyte Family (Ohio).
Friend of Eddie, Sheila and Debbie Bushell, Dario Whitehall and Keisha Gill, June and Doug Watson, Eulene and Patrick Robinson, Malcolm Harris, Shirley Clarke, Block 1K neighbours and many others.
The funeral leaves Lyndhurst Funeral Home, Passage Road, St. Michael on Tuesday, April 30, 2019, for the chapel of Coral Ridge Memorial Gardens, The Ridge, Christ Church, where relatives and friends are asked to meet at 10:00 a.m. for the service and interment. Flowers may be sent to Lyndhurst Funeral Home no later than 7:30 a.m. on Tuesday. The body of the late Lionel Oswald Mascoll will repose in the Colin Parkinson Memorial Chapel, Lyndhurst Funeral Home, on Sunday, April 28, 2019, from 4:00 – 6:00 p.m.