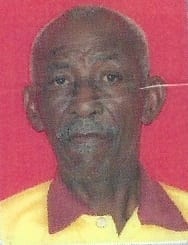 Lionel Overton Lowe
LOWE – LIONEL OVERTON, aka "Zorro" of Lot 68 Farmer's, Stage 2, St. Thomas, formerly of Cane Garden, St. Andrew, entered into rest on December 23, 2017.
Son of the late Garnett and Jermaine Lowe. Common-law Husband of Merville Griffith. Father of Mitchell and Rudolph Griffith and Neil Mayers. Grandfather of 3. Brother of Doreen Yearwood, Dorothy Mayers, Ione, Marva and Owen Lowe, the late Carlisle Lowe and four others. Uncle of many. Friend of many. Relative of the Sealy, Bovell and Lowe families.
The funeral leaves Lyndhurst Funeral Home, Passage Road, St. Michael on Thursday, January 11, 2018, for the Rose of Sharon Assembly Pentecostal Church, Whitehall, St. Andrew, where relatives and friends are asked to meet at 2:00 p.m. for the service. The cortege will then proceed to St. James Cemetery for the interment. Flowers may be sent to Lyndhurst Funeral Home no later than 11:00 a.m. on Thursday.