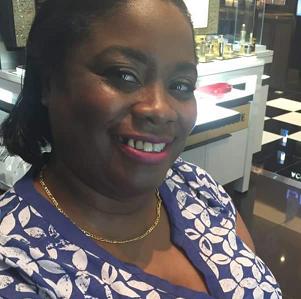 Melanie Knight
"Your wings were ready but our hearts were not"
MELANIE LORETTA KNIGHT, of London, England and formerly of Chance Hall, St. Lucy entered into rest on May 31, 2017.
Daughter of Wilmont Caddle and the late Wilma Caddle.
Sister of Shari Caddle.
Godmother of Christopher King.
Niece of Paulette Green, Celeste Gibbs and Crystalene Alexander, Rawle Knight (U.S.A), Robin Knight, Angela and Anthony Yearwood (all of the U.K), Jefferson, Estherlea, Angeline and Olivia Knight and others.
Cousin of many.
Special friend of Vincent Welch.
Friend of Maureen Cumberbatch, Grace Sealy, the staff of the St. Thomas Hospital (U.K), Apostle Marcus Hinds and congregation of the Bethel Pentecostal Church and many others.
Relative of the Knight, Yearwood, Hinds and Kellman families.The funeral of the late Melanie Loretta Knight leaves Lyndhurst Funeral Home, Passage Road, St. Michael on Wednesday, July 19, 2017, for the Bethel Pentecostal Church, Greenidges, St. Lucy where relatives and friends are asked to meet at 2:00 pm. for the service. The cortege will then proceed to Mount Pleasant Memorial Gardens, Pleasant Hall, St. Peter for the interment. Flowers may be sent to Lyndhurst Funeral Home no later than 11:30 a.m. on Wednesday.