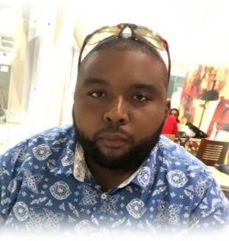 Melville Salters
SALTERS – MELVILLE ALPHEAUS, also known as "Puff" of 17 Denton Road, Grazette's Housing Area, Grazettes, St. Michael, entered into rest on November 16, 2021. Employee of Barbados Port Inc.
Son of Charlotte Salters (St. Kitts) and Melville "Charles" Gittens (Barbados). Father of Aden and Nadja Salters. Beloved friend of Sherinda Ramsay. Brother of Ramon and Raymond Marshall (Barbados), Kelvina and Reynelda Salters (St. Kitts). Nephew of Lillian, Felicia, Margaret, Kenrick, Alphaeus, Leslie Hughmiller Salters, Gloria Morris (St. Kitts), David and Richard Gittens (Barbados). Cousin and friend of many.
A service of celebration and thanksgiving will be held on Friday, December 10, 2021 at 2:00 p.m. Flowers may be sent to Lyndhurst Funeral Home no later than 11:00 a.m. on Friday.
The family invites you to view the livestreaming of the service; to view, please click here.