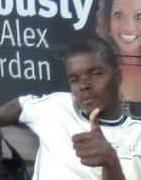 Michael Prescod
PRESCOD – MICHAEL ST. CLAIR, aged 33, of St. Sylvan's Village, St. Joseph, entered into rest on September 09, 2020.
Son of Gloradine Prescod. Brother of Tanya Prescod (Crucible International), Linda Prescod, Gina Prescod (The Crane) and Keith Prescod. Nephew of Carmen, Dalton, Edric and Judine Prescod, Angela Benskin, Lynette Greaves, Romana Weekes, Faye Sandiford, Beverly Blades, Grace Benskin-Leacock and the late Keith Prescod. Uncle of Taquan, Jazaria and Tyana Prescod, Jakara Prescod-Walkes, Christina and Elijah Archer, Kymani, Keaundra and Khaleesi Prescod. Cousin of Kirk Prescod, Rasheka Sandiford and many more. Friend of Traydea Marshall, Holbourn and Othneill Kellman.
The funeral leaves Lyndhurst Funeral Home, Passage Road, St. Michael on Friday, September 25, 2020 for St. James Cemetery where relatives and friends are asked to meet at 10:00 a.m. for a graveside service, followed by interment. Flowers may be sent to Lyndhurst Funeral Home no later 7:30 on Friday morning. Mourning colours are optional. The body of the late Michael St. Clair Prescod will repose in the Colin Parkinson Memorial Chapel, Lyndhurst Funeral Home, on Thursday, September 24, 2020 from 2:30 – 4:30 p.m.