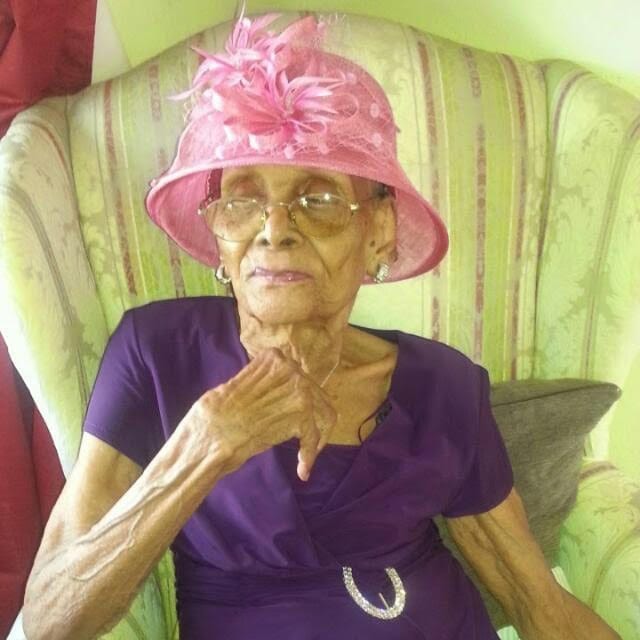 Mildred Elaine Gay
MILDRED ELAINE GAY, better known as "Ta" of 28 Welches Terrace, St. Thomas and formerly of Harvey Vale, Carriacou, Grenada, entered into peaceful rest at the age of 102. Mildred was born on May 10, 1916, in Roseau, Dominica. She was married to the late Arthur "Pio" Gay and together they had seven children and many adopted children.
Mother of Roy, Rodge, Dennis, McBride and Carrel Gay, Joycelyn Payne and the late Vincent Gay.
Grandmother of Paul, Mark, Sean, Michael, Jennifer, Bernard and Carrem Gay, Dwayne Gabriel, Ian Michaels, Annette Maraj, Rachel Boyle, Lisa Binns, Lee Middleton, Rodney Jerome, Ken Alexander, Judy Blades, Donna Gay-Warrington, Kimberley White, Nathaniel Brown, Mica Mitchell, Glenn Payne, Joi Colucci, Kimberley Beale and the late Philip Lambert.
Great-grandmother and Great great grandmother of many.
Mother-in-law of Marilyn, Michelle and Mattie.
Special Mention to Janice Lewis, Lisa Lewis-Sealy, Rachel Grazette, Trudy Mayers, Karen Adams, Moira Clarke, Dr. Opal Gibson, Dr. Ross Lavine and Dr. Janelle Applewhaite.
A Service of Praise and Thanksgiving for the life of Mildred Elaine Gay will take place on Tuesday, October 16, 2018, at The People's Cathedral, Bishop's Court Hill, St. Michael where relatives and friends are asked to meet at 10:00 a.m. The interment will take place at a later date. In lieu of flowers, donations to The People's Cathedral School Geriatric Project would be graciously accepted.