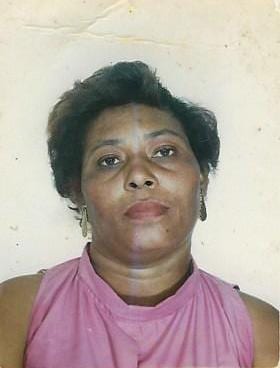 Myrie Jeannette Lolita Sargeant
SARGEANT – MYRIE JEANNETTE LOLITA, better known as "Prudence", aged 69, of Lot 13, Reservoir Road, Lodge Hill, St. Michael, entered into rest on May 14, 2017.
Daughter of the late Ruth Rollock and Edward King. Beloved Wife of Hoskins Sargeant. Mother of Roseanne, Mark, Betty and Kirk Rollock. Grandmother of Anthony, Carl and Crystal. Mother-in-law of Cecelia, George, Al and Yvonne. Relative of the Archer, Rollock, Sargeant, Boyce, Springer, Griffith and Benskin families.
The funeral leaves Lyndhurst Funeral Home, Passage Road, St. Michael on Thursday, May 25, 2017, for Power in the Blood Assembly, Kew Road, Tudor Bridge, St. Michael, where relatives and friends are asked to meet at 10:00 a.m. for the service. The cortege will then proceed to Coral Ridge Memorial Gardens for the interment. Flowers may be sent to Lyndhurst Funeral Home no later than 8:00 a.m. on Thursday. The body of the late Myrie Jeannette Lolita Sargeant will repose in The Colin Parkinson Memorial Chapel, Lyndhurst Funeral Home on Wednesday, May 24, 2017, from 4:00 – 6:00 p.m.