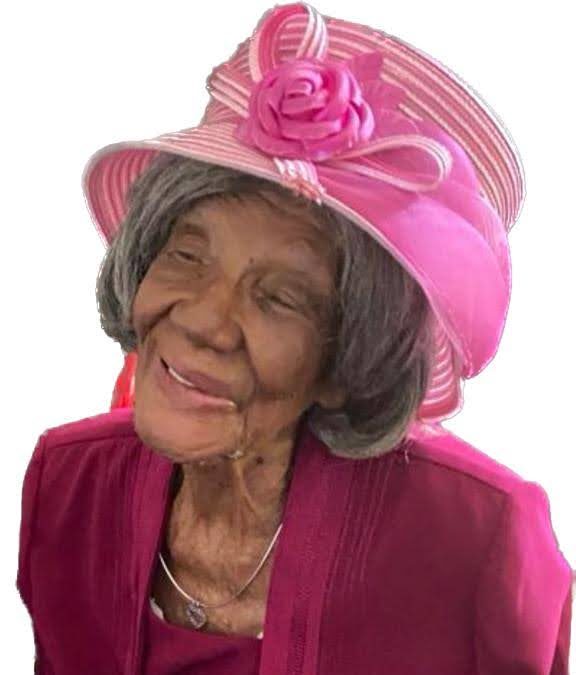 Neta Daniel
DANIEL – NETA EUGENE, formerly of #1 Belair, St. George, entered into rest on May 11, 2023.
Wife of the late Thaddeus Daniel. Daughter of the late Henry Springer and Louise Springer, better known as Petty Campbell. Mother of Adolphus Campbell, Murdeen Adams, Dr. Meureen Daniel-Belhomme, Lemuel Daniel, Gilmore Daniel, Vivian Bishop, Chester Daniel and Dr. Cheryl Moore. Grandmother of 21. Great-grandmother of 20. Great Great-grandmother of 2. Sister of Sylvia and Roy Springer and the late Damsel Davis, Doris Campbell, McDonald and James Springer and Ercil Bryan. Mother-in-law of Leo Adams, Barbara Campbell, Rohan Moore, Leticia Daniel, Dr. Jean Claude Belhomme and the late Jennifer Daniel. Sister-in-law of the late Ella Hythe, Allan Daniel and 3 others. Aunt of Ophelia Shepherd, Marlene King, Cora Henry and many others. Great-Aunt of many of the Springer and Campbell families. Friend of Euretha Payne, Nadene Hinkson, the Moore family, Elder Lennox Wiggins and members of the St. Helens Christian Mission and the late Annette Hall and Daphne Lowe.
A service of celebration and thanksgiving will be held on Wednesday, May 24, 2023 at the Chapel of Coral Ridge Memorial Gardens, The Ridge, Christ Church, where relatives and friends are asked to meet at 3:00 p.m., followed by the interment. Flowers may be sent to Lyndhurst Funeral Home no later than 12:00 noon on Wednesday. The body of the late Neta Eugene Daniel will repose at St. Helen's Christian Mission on Tuesday, May 23, 2023 from 4:00 – 6:00 p.m.
The family invites you to view the live streaming of the service; to view, please click here.