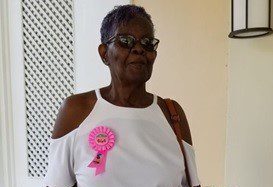 Oakley Lloyd
OAKLEY ELAINE LLOYD, formerly of Burrowes Gap, Deacons Road, St. Michael.
Wife of the late Lionel Lloyd.
Mother of Annabelle Wilson, Fay Lloyd-Weekes and Daphne St. Hill.
Grandmother of Anisah Wilson, Robyn, Rhea Manessa and Robbie Weekes, Noelle Shepherd and
Daniel St. Hill.
Great grandmother of one.
Sister of John Griffiths and the late Mary Griffith and Winston Cummins.
Sister-in-law of Patricia, Lorna, and Azile Murrell (USA), Frances Griffiths and Aleita Cummins.
Mother-in-law of Roland Wilson and Jefferson St. Hill.
Aunt of Debra, Paul and Ian Griffith (London), Anthony Griffith, Kim Foster, Alicia, Keith and
Michael Cummins and others.
Cousin of Mellis Simmons, Undine Mascoll and others.
Friend of Eudora Grannum, Marcia King, Norma Doughty and many others.
A service of celebration and thanksgiving will be held on Tuesday, September 26, 2023 at Breath of Life Seventh-Day Adventist Church, where relatives and friends are asked to meet at 10:00 a.m. The cortege will then proceed to Westbury Cemetery for the interment. Flowers may be sent to Lyndhurst Funeral Home no later than 7:30 a.m. on Tuesday. The late Oakley Elaine Lloyd will repose in the Colin Parkinson Memorial Chapel, Lyndhurst Funeral Home on Monday, September 25, 2023 from 5:00 – 7:00 p.m.