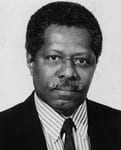 Professor George Nicholson
PROFESSOR GEORGE DOUGLAS NICHOLSON passed away in Barbados on July 17th, 2016. Professor Nicholson was born on January 1st, 1937 in Cove and John, Guyana. He attended Queen's College, marking his tenure at school with academic and social excellence, becoming Head Boy of the School and Captain of the Football team. He continued his academic distinction by attending Balliol College of Medicine at Oxford University where he received his BA from Balliol and his B.M.; B. Ch.; D.M. in Medicine from Oxford University.Professor Nicholson joined the University of the West Indies in Jamaica in 1966 and served as the Medical Registrar until in 1968. In 1970 he was appointed Lecturer and Consultant Physician in the departments of Medicine and Physiology. He was promoted to Senior Lecturer in 1976 and had a Readership conferred on him in 1989. Professor Nicholson became a consultant physician at the Queen Elizabeth Hospital in 1979, where he established and developed the first renal clinic and served as Director of the Haemodialysis Unit. Professor Nicholson served as the Dean of the School of Clinical Medicine and Research from 1992-1996. In 1994 he became a Professor of Medicine, promoted to a personal Chair in Medicine and Nephrology. He coordinated the first successful living related donor kidney transplant in the English-speaking Caribbean and carried out invaluable research on sickle cell disease, lupus, kidney disease and hypertension.Professor Nicholson retired from the University of the West Indies in 2002 and was made an Honorary Consultant of Medicine at the Queen Elizabeth Hospital and Emeritus Professor at The University of the West Indies. He continued his work in Nephrology as CEO and Medical Director of Caribbean Dialysis. Professor Nicholson was also instrumental in establishing the John Hayes Kidney Foundation in Trinidad and The 5G Dialysis Unit in Guyana. He was a proud Rotarian, serving as a member of Rotary South Barbados, and Club President from 2005-2006. He is survived by his wife Gisela and her children, brother Alex and sister Marguerite, his children Lena, George, Belinda, Maia and Arwen and their mother Lilian Sten-Nicholson, grandchildren, Zayn, Kade and Marissa, daughter-in-law Carol and son-in-law Chad and many nieces, nephews and family members across the globe.
A memorial service for Professor Nicholson will take place on Wednesday, August 3rd, 2016 at 2:00 p.m. at the Chapel of Coral Ridge Memorial Gardens, The Ridge, Christ Church. In lieu of flowers, donations can be made to The Barbados Association of Palliative Care or The Barbados Association for Cancer Advocacy.