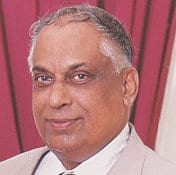 Robert Hardyal
Dr. Robert Lennard Krishanand Hardyal, aged 81, retired Doctor, of Barbarees Hill, St. Michael and Rock Dundo Heights, Lodge Hill, St. Michael, entered into rest on January 31, 2019.
Beloved Father of Beloved Father of Nargis and Gervais (UK);.
Grandfather of Ayden and Arron (UK).
Uncle of Sven, Dorette and Mark Hardyal (Canada) and Yvonnette Bushell (Canada).
Father-in-law of Michele Dowrich (UK).
Relative of the Hanoman and Jhagroo families.
Friend of the King family and many others.
A Thanksgiving Service celebrating the life of Dr. L. K. Hardyal will take place on Tuesday, February 12, 2019, at the Chapel of Coral Ridge Memorial Gardens, The Ridge, Christ Church at 10:00 a.m., followed by a private cremation. The Organist is kindly asked to attend. The body will repose for viewing from 9:00 a.m. until the start of the service. In lieu of flowers, donations toward The Heart and Stroke Foundation of Barbados would be greatly appreciated.