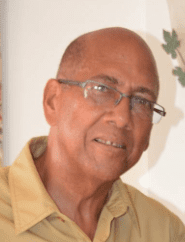 Roger Darsel Cherebin
ROGER DARSEL CHEREBIN, formerly of Sturges, St. Thomas, entered into rest on January 30, 2018.
Son of Reginald Cherebin and the late Joyce Cherebin of St. Lucia
Husband of Desirée Cherebin
Father of Sabia and Ryan Cherebin
Step-Father of Lloyda and Aysha Springer and Neysa Bridgeman
Grandfather of Nya, Éla and Ade
Brother of Andre Cherebin, Jackie Cherebin-Weekes and the late Paul Cherebin
Father-in-law of Janelle Cherebin and Val Bridgeman
The funeral leaves Lyndhurst Funeral Home on Monday, February 05, 2018 for St. Dominic's Roman Catholic Church, Maxwell, Christ Church where relatives and friends are asked to meet at 10:00 a.m. for the service, followed by a private cremation. In lieu of flowers donations to the St. Dominic's Church Building Fund will be graciously accepted.