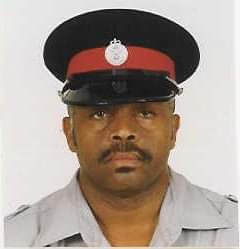 Wayne McGeary
WAYNE ANTHONY McGEARY, of Union Development, St. Philip, entered into rest on September 15, 2021. Retired Station Sergeant, Canine Division of the Royal Barbados Police Force.
Son of the late Joseph McGeary (Retired Station Sergeant, RBPF) and Marjorie McGeary.
Husband of Marian McGeary.
Father of Michelle Owusu, Waynelle Browne and Wayne McGeary Jr.
Grandfather of Skyla, Zara, Janai, Matteo and Jeshurun.
Brother of Robert Hinds, Yvette Adams, Janice Davis and Coral Vaughn.
Uncle of Mathew Maynard, Philice Albury, Philip and Philmore Davis, Dr. Philippa Davis, Tracy Padmore, Terry-Ann Moe, Alain Vaughn and others.
Nephew of Grafton and Trevor Ifill, Joyce Moseley, Pat Parris and Anita Persad.
Brother-in-law of Carlyle and Terrance.
Cousin of Candacie, Wendy, Patsy, Angela, and Owen McGeary, Dyne, Dai and Arturo Tappin, Sheila Husbands, Onita, Desiree and Nicole Hinds, Michelle, Grafton Jr., Grantley, Salane, Kareem, Orville and Madaline Ifill, Andrew and Kim Moseley, Tony and Peter Jacob and Kimberly Scott.
Friend of The Honorable Philip Davis, QC (Prime Minister of Bahamas), Ricardo Springer, Lionel Ward, Rudy Murphy, Peter Morgan, Thomas Linton, Jerry Moore, Donna Codrington, and others.
Special thanks to Kerriann Sargeant, Dr. Jurawan (QEH), and Nurse Paula.
A thanksgiving service for the life and work of Wayne Anthony McGeary will be held on Monday, September 27, 2021 at 10:00 a.m. Flowers may be sent to Lyndhurst Funeral Home no later than 7:30 a.m. on Monday. The body of the late Wayne Anthony McGeary will repose in the Colin Parkinson Memorial Chapel, Lyndhurst Funeral Home on Sunday, September 26, 2021 from 3:00 – 5:00 p.m.
The family invites you to view the live streaming of the service; to view, please click here.