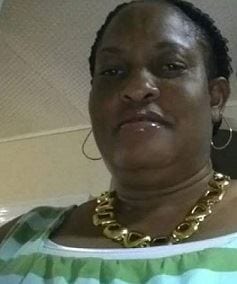 Yvette Loretta Woodroofe
WOODROFFE – YVETTE LORETTA, better known as "Kim", aged 47, of #76 Kingsland Terrace North, Christ Church formerly of #3 Endeavour, Orange Hill, St. James, entered into rest on January 31, 2018. Well-known Trowel Plaster and painter.
Daughter of the late Kathleen Gill and Joseph Skeete. Wife of Harold (Woody) Woodroffe. Mother of Darius Gill. Special friend of Carl Pilgrim. Sister of Aubrey and Collin Gill (Guyana), Orin Gill (St. Maarten) and Lawrence Gill (Trinidad). Aunt of Aubrey, Daniel, Trestian and Shaquel Gill and Georgina Barry (Guyana) and Karon Baxton (Trinidad). Niece of Princess and Sherly Skeete (U.S.A.). Cousin of Maria Roseboro and Alexis Profitt (U.S.A.), Nuyutha Muir and many others of Guyana. Friend of many.
A service of celebration and thanksgiving will be held on Saturday, February 17, 2018, at Restoration Ministries, Britton's Hill, St. Michael, where relatives and friends are asked to meet at 2:30 p.m. for the service. The body of the late Yvette Loretta Woodroffe will repose in the Colin Parkinson Memorial Chapel, Lyndhurst Funeral Home, on Friday, February 16, 2018, from 4:00 – 6:00 p.m.